Duties and Responsibilities
The Township Fiscal Officer is an elected official and is independent of the Township Trustees, yet by law, the Township Fiscal Officer must work closely with the Trustees. While the Trustees have the legislative authority in the township (ORC 505.01), the Township Fiscal Officer must keep an accurate record of all township accounts and transactions (ORC 507.04). It is the responsibility of the Township Fiscal Officer to comply strictly with the legal requirements set for the Township Fiscal Officer's duties, to establish and practice rules for efficient management of the Township Fiscal Officer's office, and to follow good accounting practices in maintaining records and The Township Fiscal Officer has designated duties that are specified in the Ohio Revised Code, such as recording accurately the proceedings of the Board of Township Trustees, i.e., keeping the Minutes (ORC 507.04), plus numerous other ministerial duties.
Biography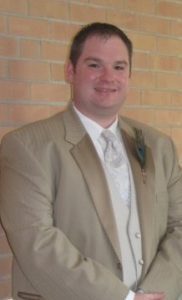 Appointed in December of 2017 first as the Assistant Fiscal Officer taking the office as Fiscal Officer effective January 1, 2018, until December 31, 2018. He has a background in Business and Finance with a Master of Business Administration from the University of Findlay where he graduated in 2009 in Organization Leadership. He is also a member of the Jerusalem Township Fire Department where he serves as a Fire Fighter and Emergency Medical Technician. Aside from being a Fiscal Officer and Fire Department member, he is a Claims Adjuster for Progressive Casualty Insurance Company where he works full time. In his spare time, he is involved with various conservation clubs, the Boy Scouts of America and with his family. He has grown up in the township living on North Curtice and Donovan roads, a graduate of Clay, Eisenhower and Jerusalem schools, an Eagle Scout of Troop 131 – St. Luke's Church, Curtice, Ohio.
Contact
Joel Moszkowicz
9501 Jerusalem Rd
Curtice, Ohio 43412
(419) 392-2764 Cell
(419) 836-8921 Office
fiscal@twp.jerusalem.oh.us
Resources