March 10th, 1893, Jerusalem Township was established, consisting of approximately 34 square miles of land, 14 miles of shoreline and 216 square miles of water that include: Turtle Island, West Sister Island & Lighthouse, and the Toledo Harbor Lighthouse.
For more history of Jerusalem Township, please see the Oregon Jerusalem Historical Society website: https://ojhs.org/
The first town hall was constructed near Yondota Center and put into use in April 1902. It was located on Jerusalem Road (SR 2). The original building was used until 1947 when a new fire house was completed on the same site. The original Town Hall building still exists but was moved to a farm near the Fire Station. Jerusalem Township is situated on the southwestern Lake Erie shoreline where the "Living Remnants of the Great Black Swamp" still exist today. Known for its dark, rich soil, Agriculture became the backbone of the community. At the time, dense forests, migratory birds, and a wide variety of plants, butterflies and wildlife predominated the area. Today Agriculture is still our foundation with many working farms and 2 Greenhouses, Knitz Greenhouse, and Bench Farms Produce & Greenhouse.
Visitors to the area can experience a quiet bedroom / agricultural community with a diverse coastal environment including some of the best Black Swamp Marshes in the world. Jerusalem Township has become a Tourism destination with 3 National Wildlife Refuges and 5 Marsh / Wildlife Areas to choose from and home of the annual Jerusalem Township Park Fest. Birders consider the area to be the "Warbler Capital of the World" attracting visitors from 47 states and 20 countries. 5 Marinas attract anglers who know Lake Erie's western basin as the "Walleye Capital of the World." The Western Basin is teaming with walleye, perch, small-mouth bass, dozens of fishing charters including the West Sister Charter Fleet Association and several bait shops, Al Szuch Fishery-Live Bait, Butch & Denny's Baitshop, Meinke Marina Bait Shop and Bite Me Bait & Tackle. If you are a birdwatcher, photographer, fisherman or outdoorsman, this area provides migration, resting and feeding places for birds, wildlife, and fish. Explore Jerusalem Township's 6,000 + Acres of Marshes, Parks, Trails, Beaches, and Waterways.
Native American Heritage
Early inhabitants of the area were the Erie Indians. By 1654 the Iroquois controlled the area making Lake Erie the last of the great lakes to be explored. Indian, French, and English conflicts contributed to risk in the area. By 1701 a peace treaty was signed with the French. A military post (Detroit), and a Trading Post near Fort Wayne were established providing a market for Indians to trade their furs. The Erie Indians called Lake Erie "erielhonan" meaning Long Tail. The Ottawa Indians pronounced Miami "mawmee" and today the river is the Maumee. In 1720 Ottawa Chief Pontiac was born on the Maumee River and by 1763 the Ottawa tribe moved into the Maumee Valley, which is now present-day Lucas County, Jerusalem Township. The soil being rich and game plentiful they expanded their control to the shores of Maumee Bay and Lake Erie. 1807 Peter Navarre came to the mouth of the Maumee River where he built a cabin and found Ottawa Indians living in a village made up of log homes. By 1812 the Ottawa, Wyandot, Potawatomi, and Seneca Indians were living in villages among French and English settlers in areas extending from the Maumee River to Sandusky Bay. Ottawa Indian Villages existed throughout the area where many arrowheads, tomahawks, and other Indian artifacts were found. In 1830 the Indian Removal Act was passed, and arrangements were made with the Indians to give up their land and move to reservations. A large Ottawa Indian settlement was situated east of Shepherdsville (present day Bono). Francis Bono's Father – is said to have been an Ottawa Chief, refused to move west to Kansas Territory or move to Walpole Island in Canada and so they remained in the area. 1861 – Francis Bunno (Shua) married Mary Angeline Cataract (Spelling varies) a Chippewa Indian and had 6 children. Mary Angeline Cataract's grandmother, Victoria Cataract, a full blood Chippewa, made hand woven baskets and sold them door to door. Many white settlers married Indian maidens and became part of the tribe. Every year thousands of Indians from the area went to Presque Isle for a ceremonial gathering (Powwow) involving drums, singing, peace dance, war dance, medicine dance, and a feast that lasted several days.
New Jerusalem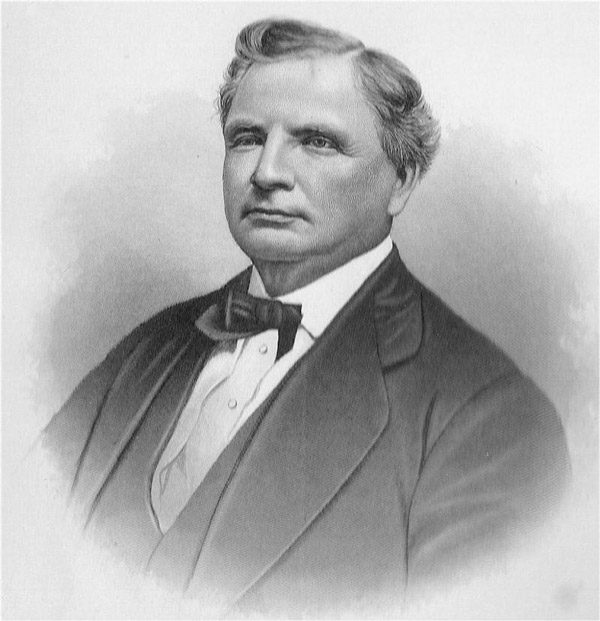 EBER BROCK WARD
1811-1875
Eber Brock Ward was an industrialist from Detroit, a traveler, shipbuilder, and owner of vast tracts of timber lands. He purchased the swamp along the southern Lake Erie shoreline land teaming with oak, walnut, ash, and elm trees to further his shipping empire. At that time there was no waterway connecting the interior treed area through the wetlands area to Lake Erie. To transport the lumber, Ward constructed the Ward's Canal, which is approximately 2-3/4 mile long, 30-60 foot wide, (sources vary) and 15 feet deep. The canal stretched inland from Lake Erie to Cedar Creek, which had no mouth but instead dissipated into the marshland. This canal opened the area to permanent settlement.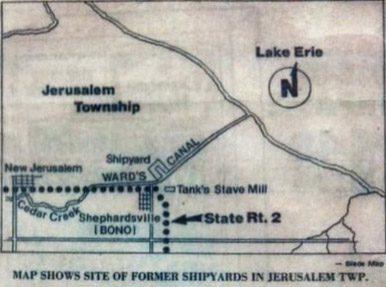 In New Jerusalem, Ward built a sawmill on Jerusalem Road at the Cedar Creek between Lyons Road and Bono. He built a boarding house, his own large home, horse stable, and horse racing track at Jerusalem Road & Yondota Road. He dug the Wards Canal that connected the Cedar Creek to Lake Erie and constructed a shipyard about 1-1/2 miles east of New Jerusalem on the north side of the canal. The shipyard operated from 1870-1875 and built 11 ships. The sawmill cut lumber to build his vessels and shipped goods via the Wards Canal to various places on the Great Lakes. At one time as many as 100 men were employed and more housing was needed. In 1880 Fred Tank began a stave mill business near the Ward shipyard site and Shepherdsville and shipped barrels via steamer out the canal and across Lake Erie to Kelly's Island. In 1895, a muck fire burned for about 3 months and destroyed most of the remaining timber in the canal area, ending lumbering, but Tank's stave mill continued operating into the 1900s.
The steamer ship named Music, described as one of the finest vessels on the Great Lakes, was built in New Jerusalem. Information on this and other vessels built in Ward's successful shipyard include:
Barge: Ships Built: 1872 Uranus.
Schooner-Barge: Ships Built: 1872 Herschel, Jupiter, Mars, Venus, Saturn, Mercury (right)
Steam-Barge: Ships Built: 1873 Leland
Tugs: Ships Built: 1874 City of Alpena.
Steamship: Ships Built: 1874 Music (left)
Schooner: Ships Built: 1875 Wells, Fred L.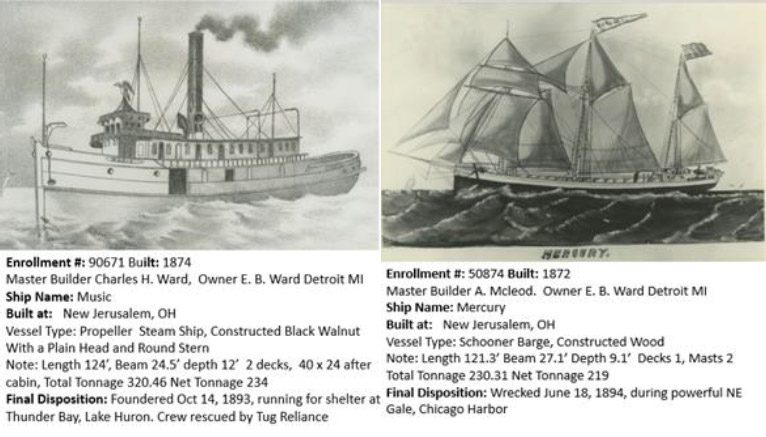 Jerusalem Township Communities: Bono, Curtice, Reno Beach, Howard Farms, and Maumee Bay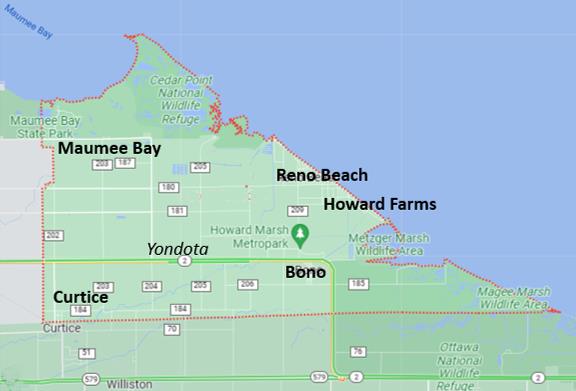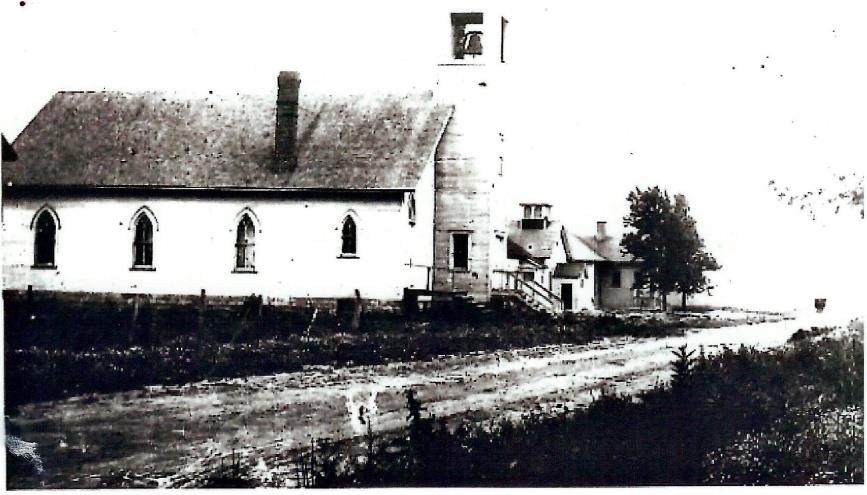 Bono (Previously Shepherdsville): In the 1880s, Daniel O. Shepherd purchased land south of Ward's sawmill, shipyard and named it Shepherdsville. He platted the land and sold most of it to the mill workers. In the 1890's, an application was made for a post office, but was denied as Ohio already had a post office serving a community named Shepherdsville. In 1898 the townspeople voted to change the name to Bono after a well-respected Ottawa Indian Francis Bunno. The Bono Post Office closed in 1974. Shepherdsville (now Bono) continued to thrive with work along the canal. AW Tanks, Murphy's Addition to Bono, Hartenfeld Addition and Berwynn subdivisions provided housing for families working in the onion fields. The area became a thriving village, with several trades and occupations. In 1902, the Bono Baptist Church was the first village church and built with a foundation of stones transported from Kelly's Island via Ward's Canal. In 1967 Our Lady of Mount Carmel Catholic Church was dedicated. In 1969 the Cooley Canal Yacht Club was built. The Martin Post Office 43445 services the Bono portion of Jerusalem Township. Today Bono Living offers a quiet residential community near the Howard Marsh, Cooley Canal Yacht Club, Meinke Marina East, Metzger Marsh, and the Ottawa National Wildlife Refuge.

Yondota: Wards New Jerusalem, located at Jerusalem Road (SR 2) between Decant and Yondota Road, applied for a Post Office however a New Jerusalem Post Office was already established in Logan County Ohio in 1876 – 1904, so the Yondota Center Post Office was established On March 4, 1895. M.G. Witty was appointed postmaster. He served in this capacity until the Post Office closed August 16,1906. M.G Witty opened a grocery store, saloon with a dance hall Yondota became a center for people from miles around. Prior to Jerusalem Township the Oakwood Cemetery was established 1822 and is on Brown Rd. In Two Jerusalem Township Schools Jerusalem Elementary built in 1938 and Dwight D. Eisenhower Middle School built in 1963, both part of the Oregon School System. The Jerusalem Township Fire Department started service to the community in 1944 but was officially incorporated by the State of Ohio in 1949. The Wolf Creek Sportsmen's Association established in 1933 and came to Jerusalem Township in 1963. Also, in 1963 the Oregon Jerusalem Historical Society was organized and is located at the old Brandville School in Oregon. In 1979 the St. Luke's Evangelical Lutheran Church of Yondota was built. Today Yondota is not formally recognized as a community but is near where the Jerusalem Township Hall, Fire Station, Maintenance Building, Historical Buildings and where E. B. Wards New Jerusalem began.

Curtice: was founded in 1882 by Joshua E Curtice (pic above) who purchased 500 acres of wooded property and established a sawmill. The unincorporated subdivision of Curtice lies within Allen Township (Ottawa County). The residents of the Northern portion of Curtice are in Jerusalem Township (Lucas County). Jerusalem Township, Curtice has two subdivisions, Ingraham, and North Curtice Gardens. 1882 the Curtice post office was established, and a new post office built in 1960. The Curtice Post Office 43412 serves a substantial portion of Jerusalem Township residents. Today Curtice living offers a quaint residential community with an agriculture feel just a short drive from Maumee Bay State Park and several Marinas.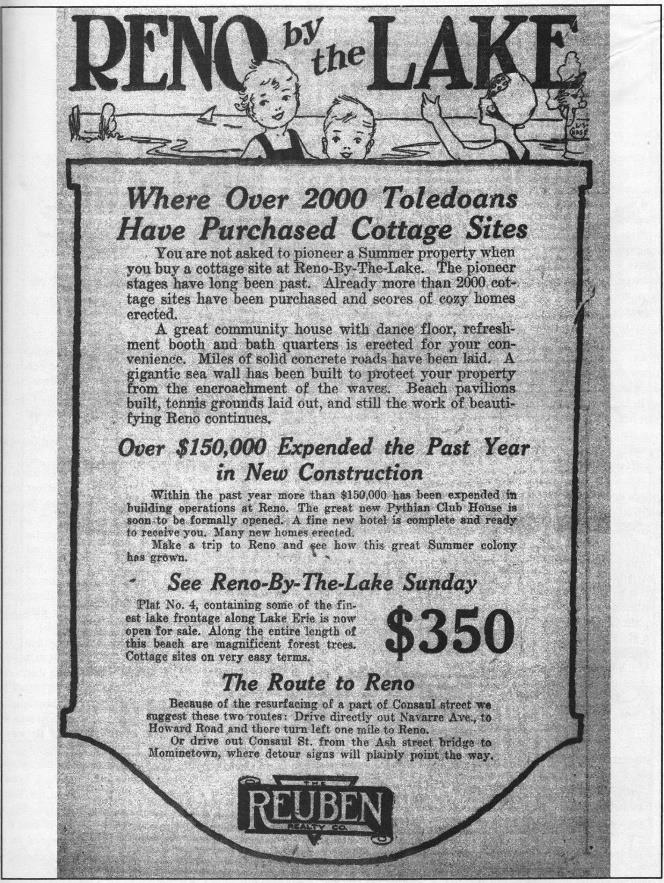 Reno Beach: In 1899 Henry Reno bought the Wards Mill and in 1902 bought 960 acres of land along the lakeshore with approximately 2 miles of sandy beachfront property. By 1921 The Reno Beach Amusement Company was formed, and Trust created. "Old Reno" (North of Corduroy Rd) included the Lakemont Landing Dance Hall & Theatre, the Clubhouse Dance Hall, a 400-acre18- hole Lakemont Golf Course, and platted ¼ acre lot subdivisions include Reno by The Lake Plats I, II, III, IV, V, (Pic above) & Reno Beach Lands. "New Reno" (South of Corduroy Rd) include Reno Lakeland Beach, Reno Gardens, and Reno Farms. The flood of 1943 destroyed the Clubhouse Dance Hall and damaged Reno Amusement Park facilities. In 1945 Lakemont Golf Course was shut down. 1950 Jacks Superette was built and is the only grocery store in Jerusalem Township. In 1958 across the Cooley Canal the Anchor Point Marina was created. Flooding struck again in 1972 and the United States Army Corp of Engineers built a temporary dike in 1973. By 1979 the Meinke family establish Meinke Marina and is between Anchor Point Marina and Reno Beach. In 1989 the Lake Erie Lodge was constructed near the Marinas. In 1993 a permanent dike was built to effectively control the flooding, allowing restoration to flourish. The Curtice 43412 Post Office services Reno Beach. Today Reno Beach Living offers a residential community on the Lakefront & near the lakeshore with private beach for residents, Howard Marsh Metropark, Meinke Marina West, and Anchor Point Marina.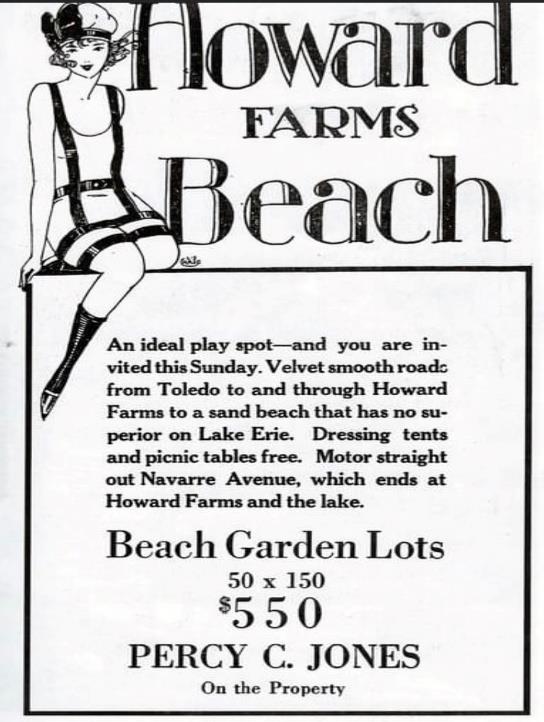 Howard Farms: Around 1900, George A. Howard, of Howard Farm Company, purchased 1,485 acres of Ward's property including approx. 2 miles of sandy beach, and the Wards canal for the purpose of farming. Howard's knowledge of effective method for draining land changed the swamp land to flourishing farmland, opening the area to further settlement. George A Howard platted subdivisions named Howard Farms Platt 2 & 5 are along the lakeshore and have a French influence with road names including La Fontaine Dr, Bayonne Dr, Lagoon Dr, and Marais Dr (Marais means Marsh in French). Howard Farms Platt 1 is adjacent to the Howard Marsh. Howard Farms was one of the earliest and largest company owned muck farms in Jerusalem Township. Using this reclaimed rich soil, Howard introduced onion farming to Northeast Ohio. Using the canal for water control, agriculture became the major industry in Jerusalem Township. Howard Farms is serviced by the Curtice 43412 Post Office. Today Howard Farms Living offers a residential community on the Lakefront & near the lakeshore with private beach for residents, Howard Marsh Metropark, Meinke Marina West, and Anchor Point Marina.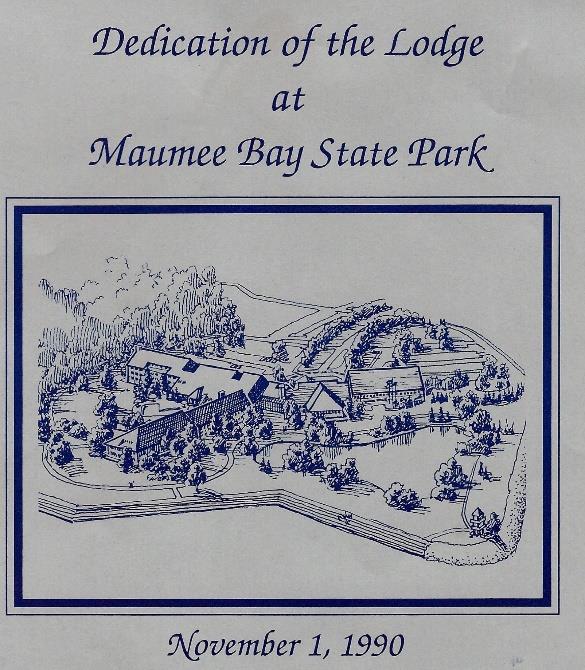 Maumee Bay: Maumee Bay State Park is built on the site of the former Niles Beach, a community of vacation cottages that was devastated in a 1972 flood and never rebuilt. Acquisition of park lands began in 1974 with matching funds from the Land and Water Conservation Fund. Maumee Bay officially became a state park in 1975. The revitalization attracted residents that desired family living near the lakeshore and public beaches. In 1991 the Maumee Bay Lodge, Conference Center, rental Cabins, 18-hole par-72 Scottish-links Golf Course with a golf pro-shop and a state-of-the-art Trautman Nature Center were opened and attracting more family homes. By 2022 the Maumee Bay Reunion Cabin was added to the amenities. The Jerusalem Township (JTWP) Maumee Bay Area is serviced by the Oregon Post Office 43616 and residents have Oregon mailing addresses. Today Maumee Bay Area offers country living next to the Maumee Bay State Park, Public Beach, Golf Course, Trautman Nature Center, Mallard Club Marsh Wilderness Area, and the Cedar Point National Wildlife Refuge.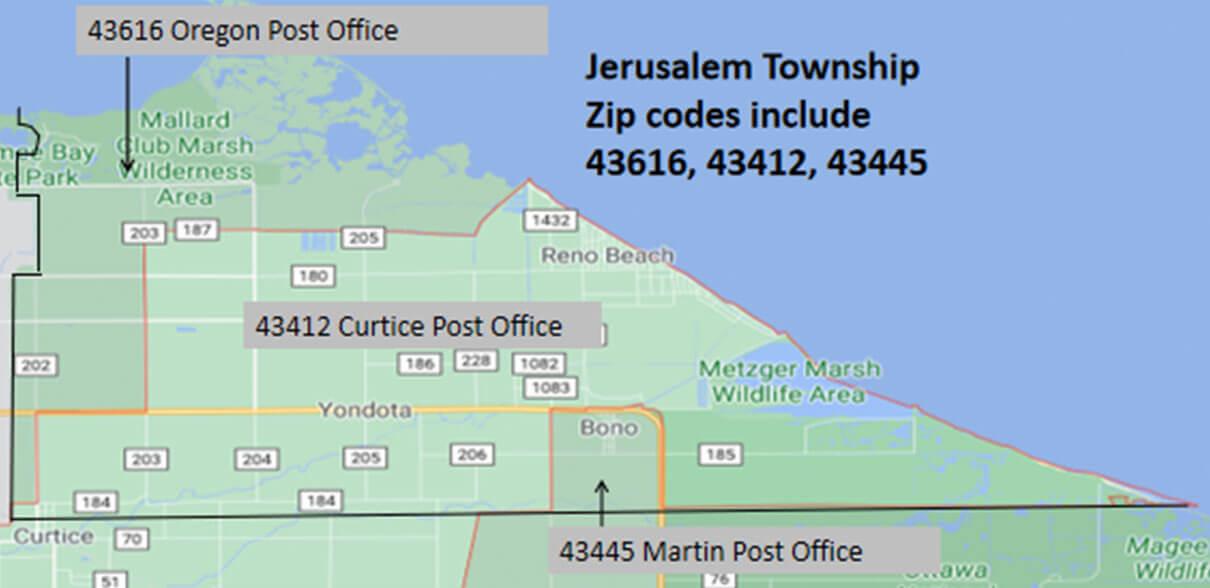 Conservancy District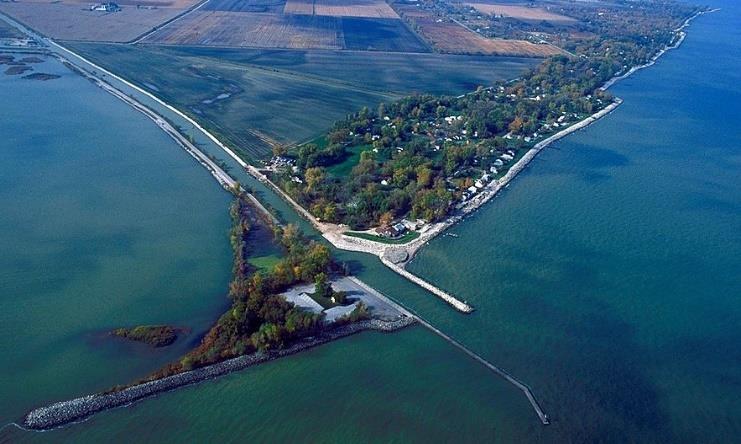 The Reno Beach/Howard Farms Conservancy District: Is in northeastern Jerusalem Township, Lucas County, Ohio, and encompasses approximately 1,200 acres with over 2,287 individual parcels along the Lake Erie shoreline. The District extends from Cooley Canal on the west to Wards canal on the east, and from the lakeshore on the North to the Howard Marsh on the south. The Reno Beach/Howard Farms Conservancy District (the "District") was organized to develop and implement a plan to reduce the risks of flooding within the areas surrounded by the existing dike system. The risk of flooding is reduced through the maintenance of dikes and stormwater pumping stations. The District works collaboratively with Township, County, State and Federal Agencies to create, refine, and implement an Emergency Action Plan (EAP).
The original flood control works were constructed by local private property owners beginning in 1902. Flooding remained a reoccurring problem. Following the record flood of 1913, the greatest natural disaster in Ohio's recorded history, the Ohio General Assembly passed the Ohio Conservancy Law (Ohio Revised Code Section 6101)
After the 1943 flood, residents and community leaders acted and established the Howard Farms Conservancy District & the Lake Erie Conservancy District No. 1.
Flooding continued in 1972 with another flood destroying dozens of homes, the Lakemont Landing clubhouse, and severely damaged many homes along the lakeshore. Governmental assistance came in 1973 when the US Army Corps of Engineers (USACE) launched a large-scale effort to protect against flooding by building a temporary dike along the shoreline.
In 1993 the USACE completed a permanent protective dike extending from the Cooley Canal to Wards Canal totaling 7,520 ft. Modifications to the 1972 emergency levee were updated to protect the area from waves and tidal surges from Lake Erie. The two smaller districts were combined into the single entity of the Reno Beach/Howard Farms Conservancy District (RBHFCD) by an order of the Lucas County Court of Common Pleas in 1994.
The USACE owns the rock structure protecting the conservancy district and requires 408 permit approval for all projects built on or within easements of the dike structure. Annual dike inspections and regular maintenance, including tree/brush removal, vegetation management, and vegetation spraying, are managed by the RBHFCD, and inspected by the USACE. The Conservancy District was in an "Inactive Status" from 1993 until late 2021. After several years of vegetation improvement, documentation of all dike encroachments by the USACE, and considerable local efforts, the RBHFCD qualified for a change in status. 2021 the Reno Beach Howard Farms Conservancy District is in an "Active Status" as recorded with the State of Ohio and the National Levee Database. The "Active Status" brings additional resource support if needed from the USACE and the RBHFCD is now eligible to apply for state and federal grants.
Based upon information available through the Federal Emergency Management Agency (FEMA), US Army Corps of Engineers (USACE), and National Oceanic & Atmospheric Administration (NOAA), the top of the existing levee system surrounding the Conservancy District varies from a low point elevation (above sea level) of 575.8 to a high point of 582.8. The elevation of the existing lands protected by the levee system range from 568.0 to 574.0.
Conservation: Refuges, Marshes, & Parks
National Wildlife Refuge System: The U. S. Fish and Wildlife Service manages an unparalleled network of public lands and waters called the National Wildlife Refuge System.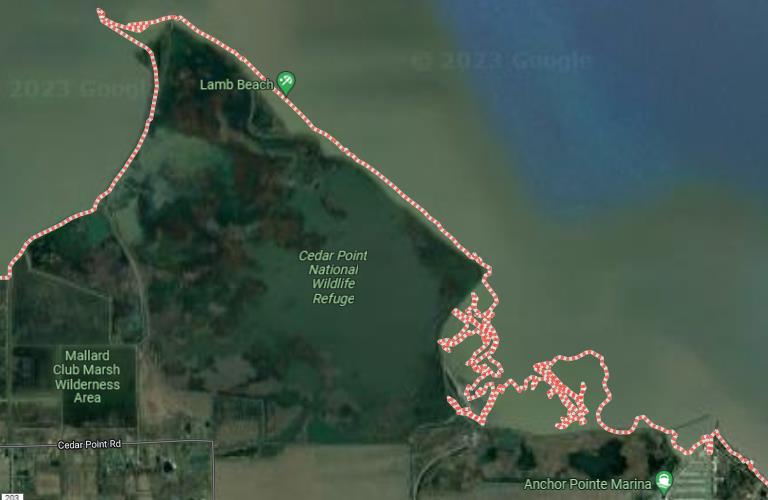 Cedar Point National Wildlife Refuge: Was originally a hunt club that became a refuge in 1964 with 2,500 acres preserving rare plants and habitats not found in other areas of Ohio. Fishing, wildlife watching, birding, photography, and non-motorized boating are all available from the parking lot on Yondota Road from May 1st through Aug 31st. The marshes of the refuge are divided into three units, providing habitat for a variety of waterfowl, wood ducks, trumpeter swans and Canadian geese. Other birds that use this area include common terns, sandhill cranes, great blue herons, great egrets, and double-crested cormorants. The large area provides an undisturbed location for these birds to nest, feed, and rest. A water control structure with fish passage was added to the largest unit. Local drainage water is passed into the wetland and water can flow in and out of the water control structure allowing the wetland to filter the water and assist in cleaning Lake Erie. Cottonwood dune forests provide stopover habitat for migratory songbirds and locations for bald eagle nests. These areas are important for plant growth and birds that use them during migration. Large flocks of shorebirds, resting ducks and even songbirds are often seen along the beaches. Fishing is permitted, primary species include channel catfish, largemouth bass, and sunfish. Ohio state regulations apply. The area around the main fishing pond supports mature willow and cottonwood trees providing excellent viewing of migrating songbirds and eagles roosting in the trees. The parking lot is well used by Spring Birding Tours to this refuge. Hunting for white-tailed deer is available through a lottery system administered by the Division of Wildlife system each July. Waterfowl hunting is available via boat along the shores of Lake Erie. The Cedar Point National Wildlife Refuge is part of Jerusalem Township.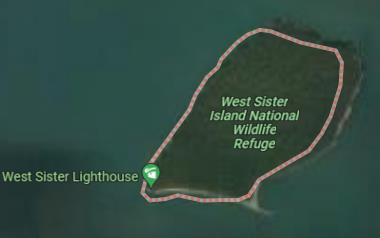 West Sister Island National Wildlife Refuge: Is located 9 miles from shore. In 1938 the island was declared a refuge and in 1975 was considered a wilderness area. This 82-acre island is closed to all visitors to protect the largest nesting colony of wading birds in the United States Great Lakes area. The most common birds nesting on the island are the great blue herons, great egrets and double-crested cormorants. These birds make their nests high in the hackberry trees that cover the island. Occasionally, little blue herons and snowy egrets also nest amongst the larger birds. Another frequent resident, the black-crowned night-heron, prefers to nest closer to the ground in a shrub layer. As the meadow near the lighthouse filled in with shrubs, this became an ideal habitat for the night-herons. Herring gulls use the gravel beach on the island for nesting. There have been bald eagles nesting on the island for many years. There are a variety of snakes that call the island home, mostly garter snakes and northern water snakes. Viewing of any wildlife on the island is limited to those on boats as all access is restricted. The herons and egrets that nest on the island are easily seen in the marshes on the shore as they must make the 18-mile round trip to hunt for food to feed the chicks in their nests. Bird watching and photography can be enjoyed from a boat. West Sister Island National Wildlife Refuge is part of Jerusalem Township.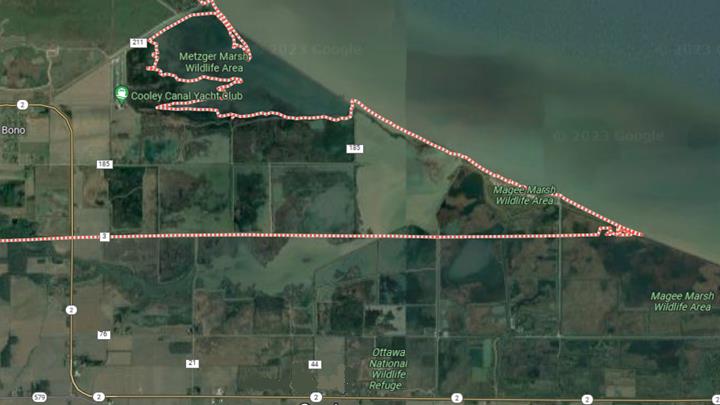 Ottawa National Wildlife Refuge: Was established in 1961. The area is an 8,000-acre refuge that protects a network of wetlands, grasslands, and forest to provide habitat for threatened and endangered species. The refuge has 10 miles of hiking trails and offers wildlife drive auto tours (check schedule for wildlife drive dates).
Featured Species: The refuge habitat is variable and diverse. By far these are best known for the variety of birds that have been found there. More than 300 different bird species have been seen on the refuge. The number and variety vary throughout the year with the peak season be- ing from late April to mid-May. During migration, the refuge may host as many as 38 different species of warbler. The boardwalk behind the visitor center and the Estuary Trail provides ex- cellent views of a variety of warblers and other migratory birds. More than 30 species of shorebirds pass through the region during migration. These birds can be found in areas of shal- low water or mud. The number and variety of waterfowl which peak in March and again in October, can be found in any of the many wetlands across the refuge. Mammals are not what the ref- uge is known for, but there are a variety to be found. In recent years the increase in the beaver population has been of great interest to visitors. There are also otters on the refuge. White- tailed deer are common on the refuge though they are not as visible here as in other locations in the region. The Visitor Center is accessible via SR 2. Part of the Ottawa National Wildlife Refuge is in Jerusalem Township.
Ohio Department of Natural Resources: Open every day and always free, Ohio's state parks and waterways provide a refuge from the pace of modern life.

Maumee Bay State Park: Was established in 1975. The park is a 1,336-acre public recreation area on the shores of Lake Erie. Maumee Bay State Park is on the site of the former Niles Beach, a community of vacation cottages that was devastated in a 1972 storm and never rebuilt. Today Maumee Bay State Park Beach offshore breakwaters protect the beach. Maumee Bay State Park's amenities include a Lodge and conference center, Cabin rentals, the new Reunion Center and 18-hole Scottish Links Golf Course, Campground, Playground, Public Beaches, Basketball court, Tennis / Pickleball courts, and 5 miles of paved bicycle paths. During migration season, 9 miles of trails/boardwalks provide views of migratory birds. More than 30 species of shorebirds pass through the region during migration and may host as many as 38 different species of warbler. Lake Erie boat docks are available May to October and are managed by the Lodge. Lake Erie fishing offers great catches of walleye, channel catfish, freshwater drum, smallmouth bass, and yellow perch. The man-made inland lake offers good pan fishing opportunities with two wheelchair accessible fishing piers. A small pond located near parking area #7 is designated as a kid-friendly family fishing area. Ohio fishing regulations apply. A valid Ohio fishing license is required (16 and older). Archery: A 7-Lane Archery Range with a combination of static bag and 3D targets is open every day, sunrise to sunset, for free. Shooters are reminded to bring their own equipment; only field points are allowed, no broadheads. Part of the Maumee Bay State Park is in Jerusalem Township.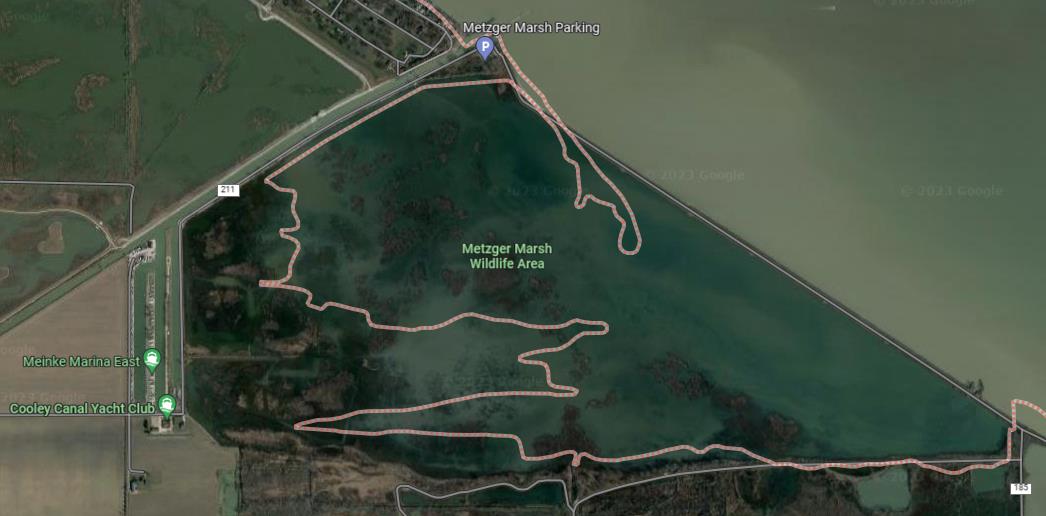 Metzger Marsh Wildlife Area: Was originally a highly productive vegetable farm operated through the 1920's. in 1929 high water decimated the dike and it was not rebuilt. Constant flooding allowed the area to quickly return to marshland. The Metzger Marsh Duck Club operated throughout the 1930's and 40's. In 1955 the Division of Wildlife purchased the 559-acre wildlife area. The dike was rebuilt in 1995. Recreational opportunities include fishing, waterfowl hunting, kayaking, wildlife viewing, and trapping. At the end of the access road is a fishing pier extending into Lake Erie that provides anglers with an opportunity to catch yellow perch, channel catfish, freshwater drum, and white bass. Many anglers also walk down the lakefront dike to catch largemouth bass and northern pike. A boat ramp and primitive boat ramps along the entrance road provide access to the marsh for anglers or kayakers in the summer and waterfowl hunting in the fall. The parking lot is a prime location for ice fishing access to Lake Erie. A small woodlot adjacent to the parking lot is visited by birders in April and May to view the more than 30 species of shorebirds and 38 different species of warbler that migrate through the region during migration. Metzger Marsh Wildlife Area is in Jerusalem Township.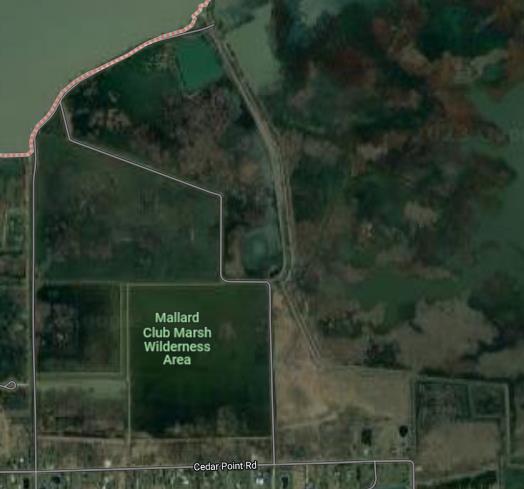 Mallard Club Marsh Wilderness Area: President Dwight Eisenhower hunted here when it was a private club. The 402-acre marsh was purchased in 1974 by the ODNR and acquired by the Division of Wildlife in 1992. In 1994 the area underwent major renovations converting it back to wetland habitat. Wildlife watching: The spring is an excellent time to walk the marsh dikes and observe migratory birds with 300 species of birds being recorded in the area. Waterfowl hunting is popular and open throughout the established seasons. Trapping is permitted and muskrats are plentiful. Raccoon and mink are also common and available for the trapping enthusiast. Three parking lots are located across the south edge of the property provide access. Mallard Club marsh Wildlife Area is in Jerusalem Township.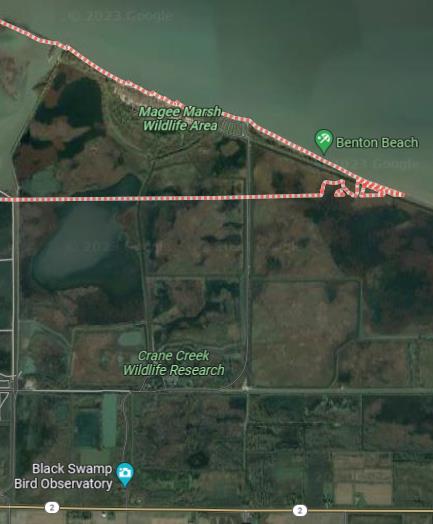 Magee Marsh Wildlife Area: The Magee Marsh Wildlife Area was purchased by the Ohio Division of Wildlife in 1951. Crane Creek is now a part of the Division of Wildlife's Magee Marsh totaling 2,202 acres with a 7-mile-long Crane Creek Estuary Loop trail. The primary responsibility at Magee Marsh is the development and maintenance of high-quality wetland habitat for a diverse array of wetland wildlife species. Spring and Fall migrations involve Magee Marsh with more than 300 species of birds being recorded in the area. Bald eagles, owls, osprey, and a large variety of hawks can be seen at Magee Marsh during the spring. A forested beach ridge located on Magee Marsh provides a critical feeding and resting habitat for more than 150 species of migrating songbirds, including 36 species of warblers. An accessible boardwalk that meanders through this beach ridge provides some great birdwatching. Controlled hunting and trapping permits for waterfowl, deer, and furbearers can be obtained through the Division of Wildlife's lottery system. The Sportsmen's Migratory Bird Center was built in 1970. The accessible Magee Marsh boardwalk and other trails are open year-round. Part of the Magee Marsh Wildlife Area is in Jerusalem Township.
Metroparks Toledo: Metroparks promotes conservation and restoration, encourages active lifestyles and nurtures lifelong learning and an appreciation for natural resources.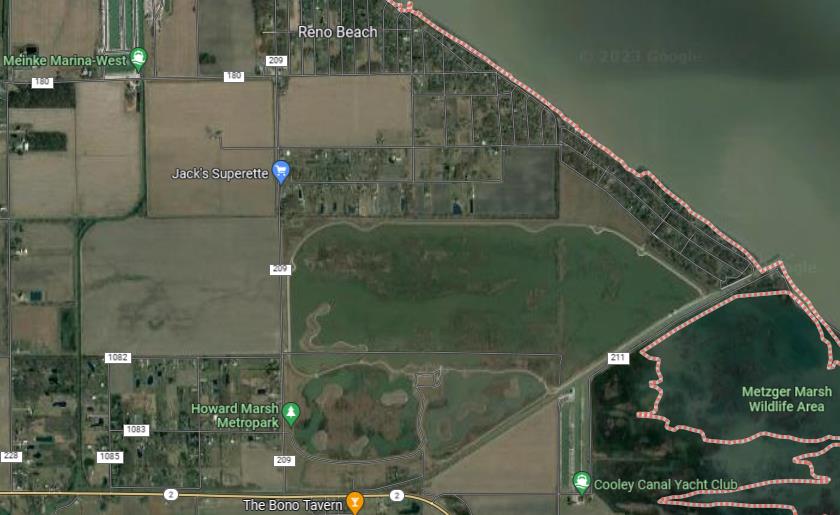 Howard Marsh Metropark: Was completed in 2022. This Metropark is one of the most ambitious projects in Metroparks history. The project restores part of a 1,000-acre wetland near the lakeshore in Jerusalem Township. Howard Marsh has 6 miles of water trail for canoeing and kayaking, and 5 miles of dike-top trails for hiking and bicycling. Howard Marsh is a birding hotspot, particularly known for waterfowl and shorebirds. Over 230 species – more than half the known species ever recorded in Ohio – include many rare and unexpected visitors during migration. Trumpeter swans, a variety of ducks, osprey and an array of songbirds are typical sights, with occasional visits from sandhill cranes, bald eagles, and pelicans.
The Metropark, which was previously a working farm, is adjacent to Metzger Marsh Wildlife Area in a region that also includes Maumee Bay State Park, Magee Marsh Wildlife Area, and the Ottawa National Wildlife Refuge. Together, these local, state, and federal public lands are known for their concentration of songbirds, and warblers, especially during spring migration. The 1/4- mile Madewell Trail extends into the marsh, and two overlooks provide access for fishing and viewing birds. The fishery is still being established, through stocking and fish making their way in from Ward's Canal, which connects the marsh to Lake Erie. For the paddler, there are two roll-off docks for kayaking and portages between marsh units. A Natural Filter: While Western Lake Erie is an international destination for birding, fishing, and boating, the marsh also improves water quality including phosphorus, that causes algal blooms. Howard Marsh Metropark is in Jerusalem Township.
---
Gov. John Kasich
"State Should Market Howard Marsh"
"We need to do a better job of letting people know what is here because it is very exciting"